I cannot say enough good things about coach Kristy! Before I started working with her I had been running on and off for several years. I was inconsistent and had no concept of pacing. I would start out way too fast and burn out halfway through a race. Completing a full marathon seemed like an impossible goal. Kristy gave me the strategy and structure I needed to train smart. She created a personalized training plan that worked for my schedule. I finally learned how to pace myself. Not only is Kristy extremely knowledgeable as a coach, she is also incredibly enthusiastic, supportive, and empathetic. I had improvements with each week of training and my confidence grew. Thanks to Kristy I successfully completed my first full marathon and beat my goal time! Even better, I truly enjoyed the experience, unlike the few half marathons I had struggled through before. I could not have done it without Kristy's expert guidance and I am forever grateful to her. To anyone who wants to take their running to the next level, Kristy can help you meet and surpass your goals. She's a phenomenal coach and person!
~ Brigid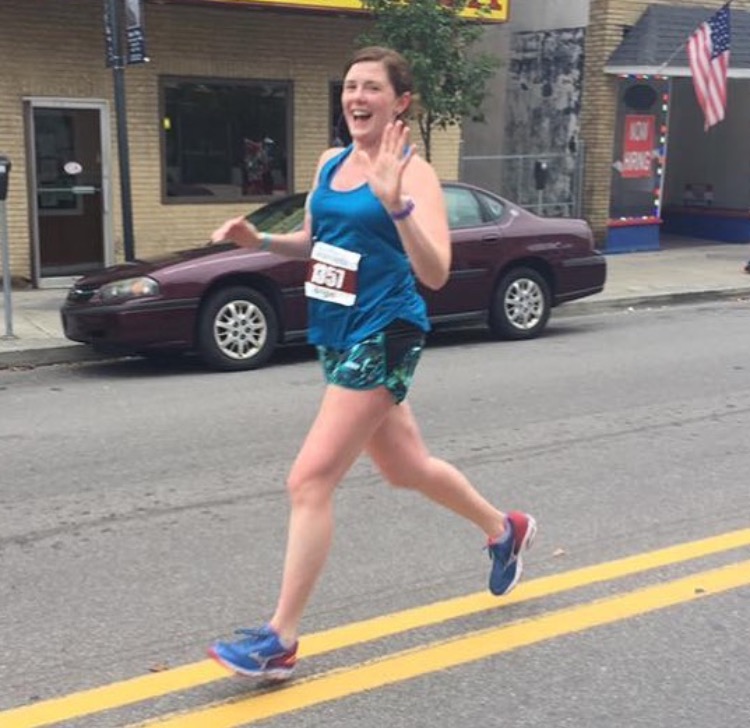 Kristy, I don't know where to begin to thank you! It seems like forever ago I started training and now it's a wonderful memory. When I decided to choose a coach I had reached out to the RUN215 Facebook group. I had gotten many responses and suggestions. After looking at your story and your training approach I knew you were the one for me. I really thought my goal was unattainable. You proved me wrong. I wouldn't change one thing about my training. Your knowledge and training experience formulated the perfect plan. So many times I doubted I could do it but you were right there to tell me I could. You are not only a running coach but a mentor as well. I know I could have been a pain at times but you never once made me feel like that. You made me feel like I was your only client all of the time. I will recommend you to anyone who is looking to up their game.
~ Marie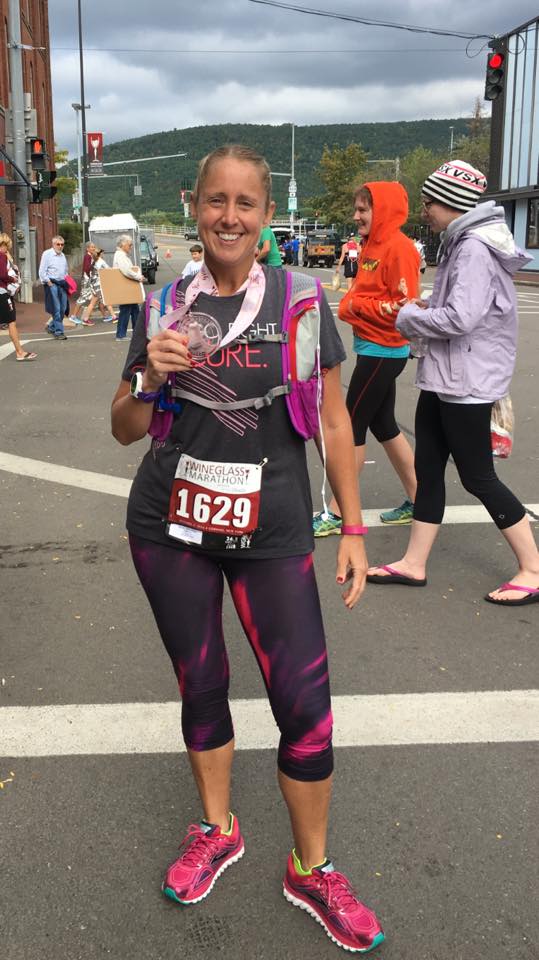 I used to think that as a recreational runner, I had no business hiring a running coach. But after using canned or semi-custom training plans and failing to meet my goals, I was ready to try something new. Hiring Kristy as my coach was exactly what I needed to shake things up! Kristy spent so much time helping me overcome many of the mental challenges that were holding me back in my racing, and worked with me on my mental training just as much as my physical training. She helped me adjust my nutrition, and held me accountable for nailing my workouts and keeping my recovery days easy. She tailored training runs to fit the course profile, and designed varied workouts that were fun to execute. (Seriously, I never thought I would say that about speed work!).
I'm afraid that at times, Kristy had to play the role of therapist as she helped to pick me up off the floor after a bad run – but no matter how much I complained, she remained motivating and encouraging. And I cannot stress enough the value of having a non-partial third party looking at your data and helping you set your goals. Knowing that Kristy believed that I could hit a target pace or achieve a PR made me believe that my goals were actually achievable, and not just arbitrary targets.
With Kristy's help – I was finally able to get my sub-4 marathon, and I can't wait to work with her to meet my next goal.
~ Stacey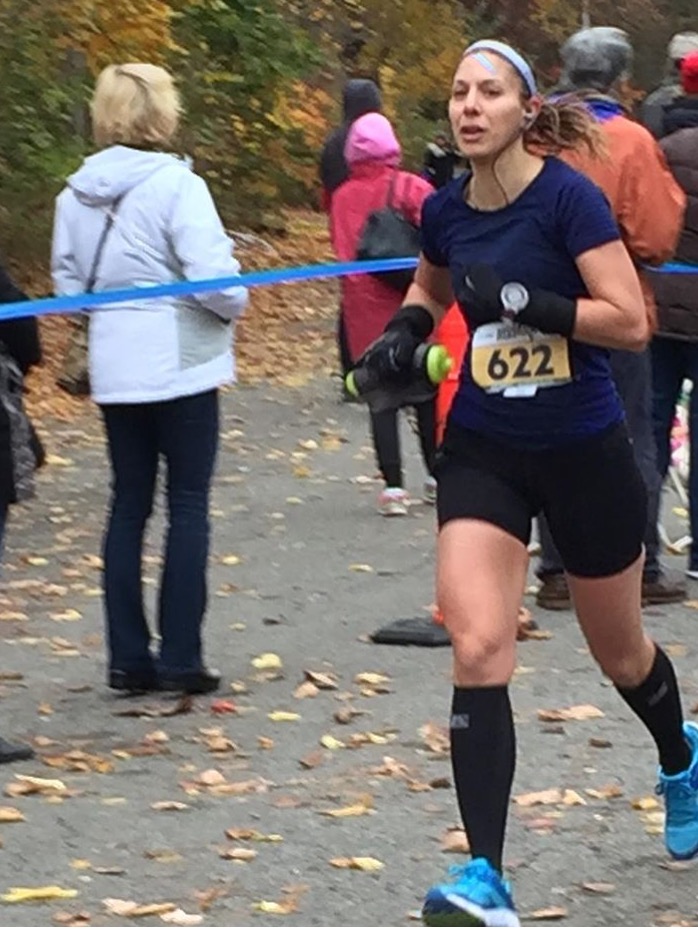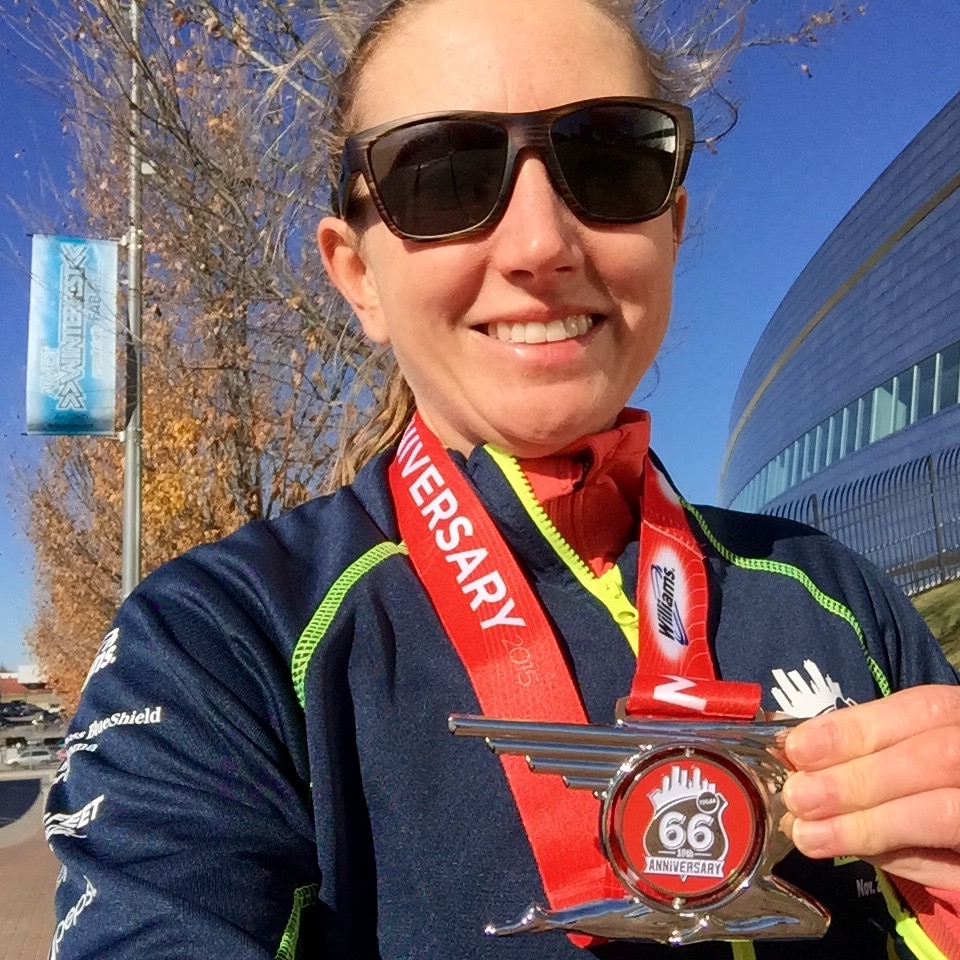 I had a wonderful experience working with Kristy as I trained for my 6th marathon (and got a 5-min PR!). My main concern going into this training cycle was fitting in all the strength training/rehab exercises that I wanted to continue doing to prevent injury. Kristy was able to help me develop a manageable schedule and even gave me suggestions for specific rehab exercises to do 3 days a week. When I got sick early on in my training cycle, she was great about encouraging me to rest and skip my runs until I got healthy, and was then able help me gradually get back into training again. Kristy was always available during the course of my training, and gave really great workouts that helped to prepare me for my marathon. In the week leading up to the race, Kristy sent really helpful tips and reminders, and checked in with me the day before the race. Her confidence in my abilities definitely helped me to push towards my goal on race day. I would highly recommend Kristy to anyone looking for a running coach, and I definitely plan to work with her again for future races!
~ Lisa
Working with Coach Kristy has been one of the best decisions I have ever made.  Despite having a busy schedule, Coach Kristy delivered a customized training plan, enabling me to earn a 7-minute PR in the half marathon. Not only has Coach Kristy helped me to achieve my goals, training with her has driven me to fall in love with running all over again. Thank you Kristy!
~ Lindy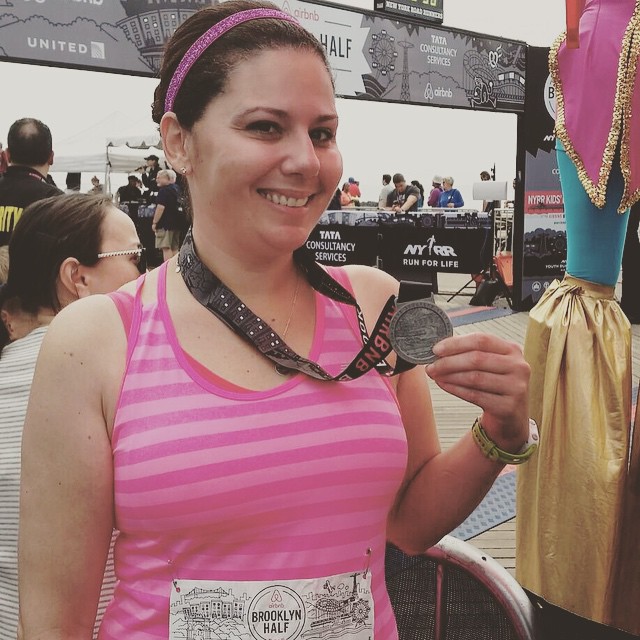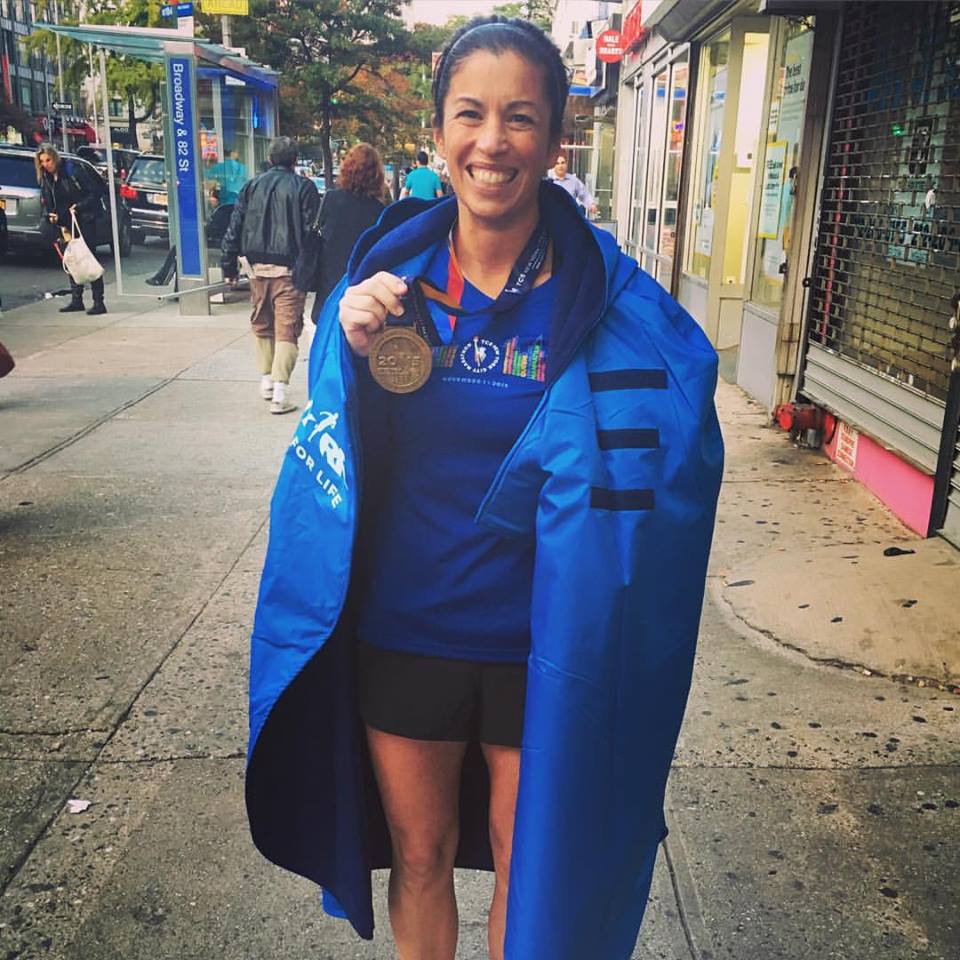 This was the first time I worked with a coach to train for a marathon and Kristy was awesome.  As a running coach myself, I love creating training plans for my runners and managing the day-to-day things that come up in their lives, but it was really nice to outsource that for myself this time! Kristy was incredibly patient with me, entertained all of my questions, scheduled (and re-scheduled) around "life" stuff, and provided endless support and motivation.  However, one of the biggest things she did was help me nail a nutrition plan that will keep me from having to make any bathroom stops.  I never had the patience to be as systematic as she was about tracking what I ate before and during and making small changes till we got something that worked.  For this alone, I will be forever grateful to her!
~ Beth
As a mom with a busy schedule I knew I would need some guidance to reach my goal of running my first ultra marathon. Coach Kristy was able to develop a plan for me that fit into my weird schedule and complemented my ability level. It was also great to have the daily support and encouragement during the highs and lows of training! Thanks to Run The Long Road Coaching I reached my goal without injury and without losing my mind!
~ Jackie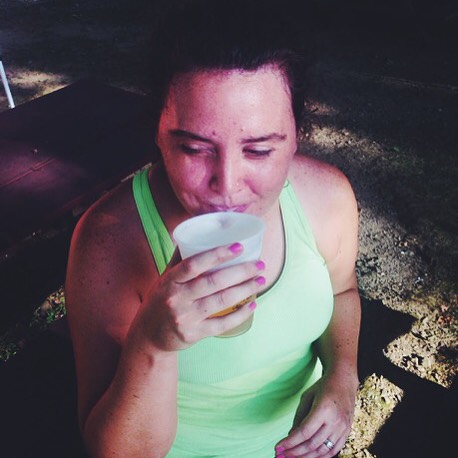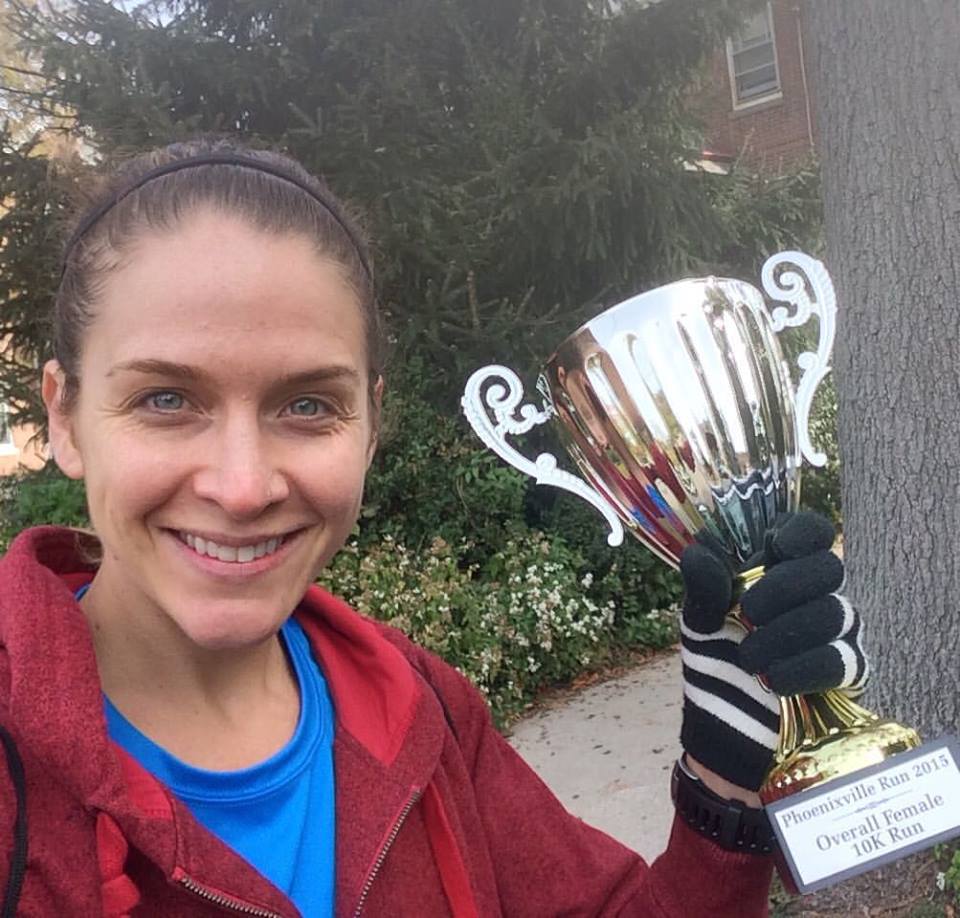 Huge THANK YOU to my coach for pushing me to a new PR! I highly recommend Run The Long Road Coaching – doesn't matter if you are a seasoned marathoner or just simply tired of "plateauing". Kristy can help you create a customized training plan that aligns with your goal and lifestyle. Kristy was super professional, always available to answer questions, and provided almost instant feedback on my workout results.
~ Katie
Thank you Kristy for all of your exquisite training because I know for certain that I wouldn't have been able to complete my first marathon without your expertise and guidance. And I was able to meet my goal of sub-4:00, which was great too. So thank you again!
~ Jamie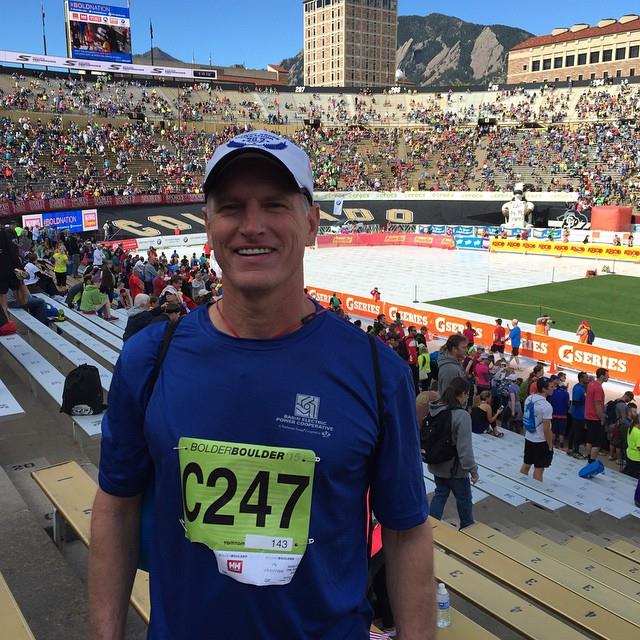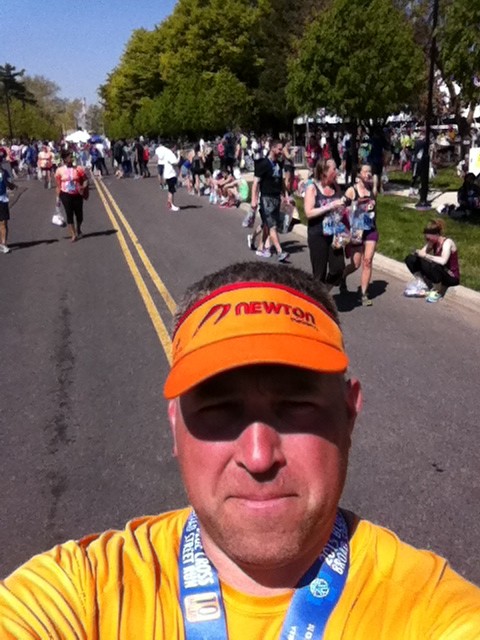 I recently had the pleasure of working with Kristy to complete the 2015 Broad Street Run! As someone who struggled for years to achieve running a 5K, the task to complete 10 miles seemed almost impossible to me. Kristy took the time to learn who I am and what my goals and motivation were. A plan was then tailored to my needs…no boiler plate plans here!
The use of Final Surge was also a huge help to track my progress, both good and bad, and was fundamental in me achieving my goal. After each run, we had a discussion as to how things went, discussed what may have caused things to occur and what we'll try for the next run. Kristy not only made sure I was ready physically, but mentally and emotionally as well. For me, that was harder than the physical part at times. I was very excited to tackle Broad Street – knowing I was prepared, had a great race strategy, and had followed Kristy's training plan. Something I never thought I would say…next up – Half Marathon! Of course, with Kristy's help.
~ Marc
I've been an off-and-on runner since junior high. I always wanted to be better, but life has a habit of getting in the way and somehow I never got around to it. Following a serious extended illness in 2013 (during which all I did was read exercise and wellness blogs), I decided 2014 was the time to finally take it seriously. I had no particular goal in mind when I contacted Kristy, so when she suggested the half marathon I decided to go for it! I'm so glad I did. The training was exactly what I needed. The plan gradually grew as my ability did, and while I felt challenged, I never felt overwhelmed. Being in regular contact not only took care of any questions that came up, but it also provided the accountability and encouragement that I needed in order to stay on track. I got to do a couple of test races, during which I was able to shave entire minutes (minutes!) off my previous 5k time. When the big race day came, I felt confident that I was ready – and I was! I could not be more pleased with how everything turned out and I cannot say enough good about Kristy and the Run The Long Road Coaching experience! I could never have done it on my own. There will be more running in my future and I will be back!
~ Jenny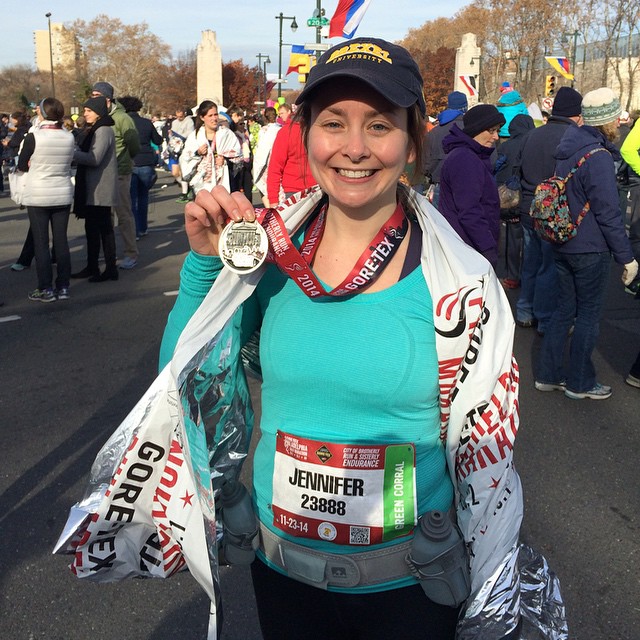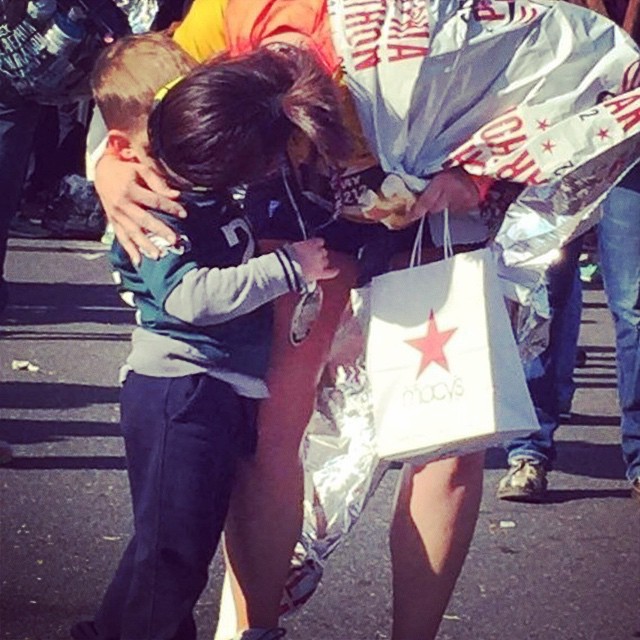 3 marathon attempts, 1 success. What was the difference? How did I finally succeed? Kristy. I have been running for 15 years. You would have thought I would have learned some things over 15 years and 18 half marathons. Well within half and hour of speaking with Kristy I quickly figured out I was clueless and I was my own worst nightmare. Not only did Kristy get me to the start line of the marathon healthy, but I ran the entire way (my goal), and during the training for the marathon I also PR'd in a half marathon. I learned more in 6 months with Kristy than I ever thought possible. Not only is Kristy extremely affordable, in comparison to other coaches, but she is AMAZING. She truly cares and adapts your plan to how you are doing mentally and physically. She caters your plan to your lifestyle, not vice versa. She is worth every penny times 10!
~ Amy
Kristy did way more than just write up a training plan: She offered invaluable guidance, knowledge and encouragement. Kristy was really responsive and quickly answered my emails and questions. I loved our weekly check-ins and getting positive encouragement. She also helped me troubleshoot tough runs. After bonking on a long run, Kristy determined that I wasn't properly fueling and suggested increasing my GU intake. Kristy's fueling recommendation made a huge difference: My energy levels stayed consistent, and I didn't feel wiped out after long runs. Knowing I had prior issues with shin splints, Kristy recommended prehab exercises and cadence drills, which helped me stay injury-free for the first time in years. Kristy is a true professional who loves running and helping people reach their goals. I highly recommend her!
~ Megan
I started running a couple years ago as a way to relieve some stress. I never was very fast, and how far I ran was governed mostly by how much time I had before work. I started "racing" and found that while I really enjoyed running against the clock, I often felt ill-prepared, even if I followed a plan I cut out of a magazine. And then I started to injure myself and never quite recover.

After moving to Philadelphia (and taking an inadvertent hiatus from running), I was healed and ready to try again. Luckily I found Kristy's blog! Every question that built up while "self-coaching" was quickly answered, and after I answered her questions, she sent me the first few weeks of my training plan. I loved receiving the plan in chunks – it never got overwhelming. Kristy worked in a variety of types of workouts and tailored the weeks to match my previous performance. The weekly check-in gave me a chance to ask any questions that came up or express any concerns. Mid-week emails were always answered quickly and ad hoc adjustments to the plan were always accommodated. Kristy's plans are so wonderful because they are built around your schedule, your preferences, and are flexible. The one time I tweaked my calf (not even running, just giving two all-day walking tours of my city to out-of-towners), we worked through it and I was back on track soon enough. Had I still been self-coaching, I would have been really stressed out about how long to rehab my calf, was I coming back to soon or waiting too long. Having someone who is trained to help you through these situations takes a lot of the stress out of your training cycle. Additionally, it adds a lot of accountability. That is invaluable when the humidity spikes, work demands pick up, or there's a just a lazy feeling in the air.

Thanks to Kristy I was able to toe the line healthy and prepared for my half-marathon, on a more difficult course than I have run before for this distance, and managed to pull off a PR on an unseasonably warm fall day. I walked away from that course knowing I left it all out there, and that was the first time I was able to do that because I went into the race knowing what I was capable of and with a race strategy that ensured I would reach the finish line as fast as I could and with nothing left. At the same time, I walked away from that race. I've had slower races where I had to sit around and rest after, before shuffling home only to lay on the couch the rest of the day too tired/sick/sore to move. Kristy made sure to work on a fueling strategy that kept me hydrated and energized rather than depleted at the end. It is way more fun to celebrate a PR when you are feeling good! I highly recommend utilizing Kristy's knowledge and skills when training for your race, be it your first or your fiftieth.
~ Courtney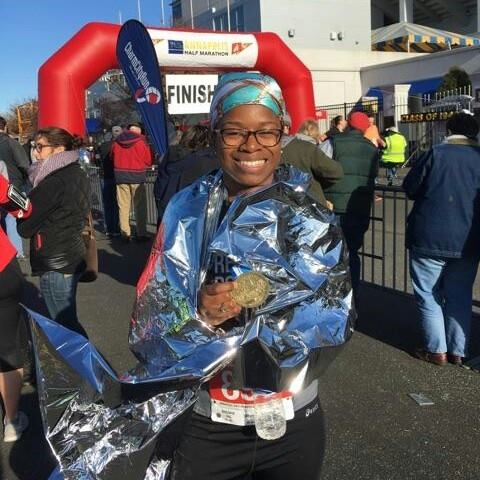 I started long distance running 3 years ago, and throughout that process I've "run" into quite a few injuries.  After finishing my 3rd bout of physical therapy, I decided that when I was going to start running again, I was going to do it right.  Luckily through an online search I was able to find Coach Kristy.  I loved that her website was completely transparent, and I decided to get a hands-on running assessment.  After a phone call, we met in-person where she evaluated my running, posture and any imbalances.  From there she was able to give me a ton of prehab strengthening exercises to help prevent future injuries.  It really made a huge difference! 

Fast forward a few months and I was ready to train for the Rock and Roll Philly half marathon.  Immediately, I knew I wanted to work with Kristy again and signed up for virtual coaching.  Kristy created a plan that worked best for my schedule, and it was a completely collaborative process as she frequently checked to make sure there were no injury concerns.  I learned how to fuel and did speed work for the first time!  I always felt that I was on track and any questions I asked were answered swiftly. 

Thanks to Kristy's guidance I was able to run my first half marathon in nearly 2 years and gave one of my best performances in a long time.  I was nervous but confident thanks to the training plan Kristy provided.  She is a great coach and really cares!  As I plan to continue running, I look forward to seeing where I can go with Kristy's guidance!
~ Janelle
I am so grateful to Kristy for successfully getting me through my first half marathon! Kristy set me up with a great training plan. She constantly checked in with me to see how everything was going. I had many questions and Kristy was quick to respond. Kristy was extremely encouraging and positive and truly wanted me to do well. I was completely prepared for my half in all regards, thanks to Kristy.  I can't wait to do another half marathon and I will definitely use Kristy again!
~ Jill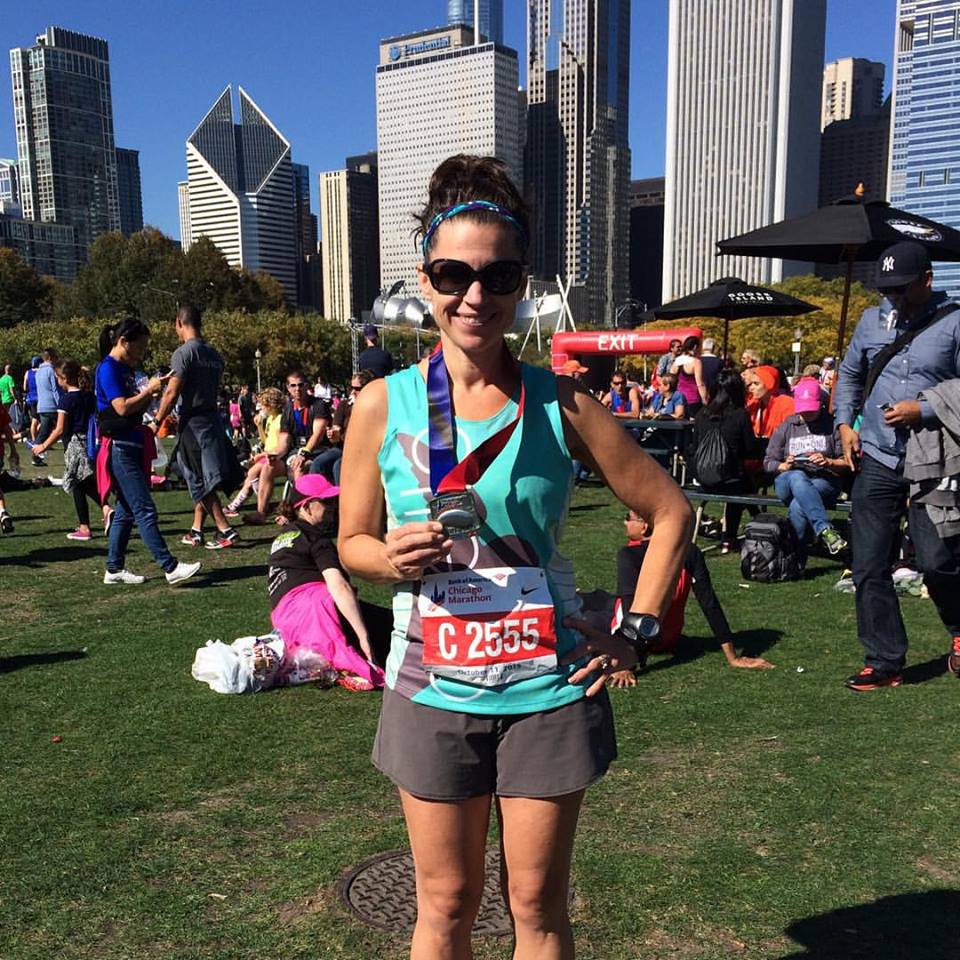 I sought out Kristy last spring with the intention of discovering whether I was running/ racing to my full potential. I had had some recent strong-for-me finish times after following generic training plans on my own, and was hoping that with some professional assistance I could improve upon that–specifically with the goal of attaining a PR in my upcoming marathon. I feel like Kristy and I connected right from the beginning, as we have very similar running "personalities". She spent a lot of time getting to know me, and after analyzing my previous training and race times, presented me with a goal finish time range that she felt I was capable of, and customized my training plan with that goal in mind. She took into account other races I had planned within this timeframe and provided me with race strategies for those as well. I always received prompt feedback regarding any questions/concerns. No detail was left unaddressed–and there are a lot of details in marathon training! I also struggled with a small but nagging injury and she provided me with specific techniques to help manage it. Her willingness to make adjustments in my plan when necessary made working with her feel like a true collaborative effort. Even though we live in different states, it felt like she was right there with me every step of the way. Her knowledge of the science behind running/training is impressive. I learned so much from her–things that I was doing right, and things that I was doing not-so-right. For me personally, and perhaps most importantly, Kristy saw potential in me that I did not. She believed in me when I wasn't so sure–this was my biggest roadblock–and for me, that made all the difference. She helped me to believe in myself. After five months of being coached by Kristy, I ran an 11-minute marathon PR!!! I know she would say that I did the work myself, but honestly, I could not have achieved this without her. She truly goes above and beyond as a running coach. Her support, encouragement, and personal touch are amazing–not to mention her expertise–and I trust her beyond measure! Her passion for running is evident. I'm looking forward to being coached by Kristy again in February!
~ Susan
I have been training with Kristy for 7 months. After meeting with her in person to go over my running goals, she created a personalized training plan for me. She worked the plan around my busy schedule and even worked in my vacations! She completely removed the mental stress of training by providing an easy to follow plan that actually fit into my schedule. She adjusted my plan as needed and provided feedback about my runs on a weekly basis. Kristy helped me work through IT band syndrome and plantar fasciitis while still getting me to my goal. In 7 months she helped me achieve a personal record in my 5K time by 10 minutes, my half marathon time by 30 minutes, and my marathon time by almost 1 hour! She was as excited about my accomplishments as I was! These are not things you can get from a training program out of a book or magazine. Working with Kristy was the best decision I ever made about my training!
~ Jen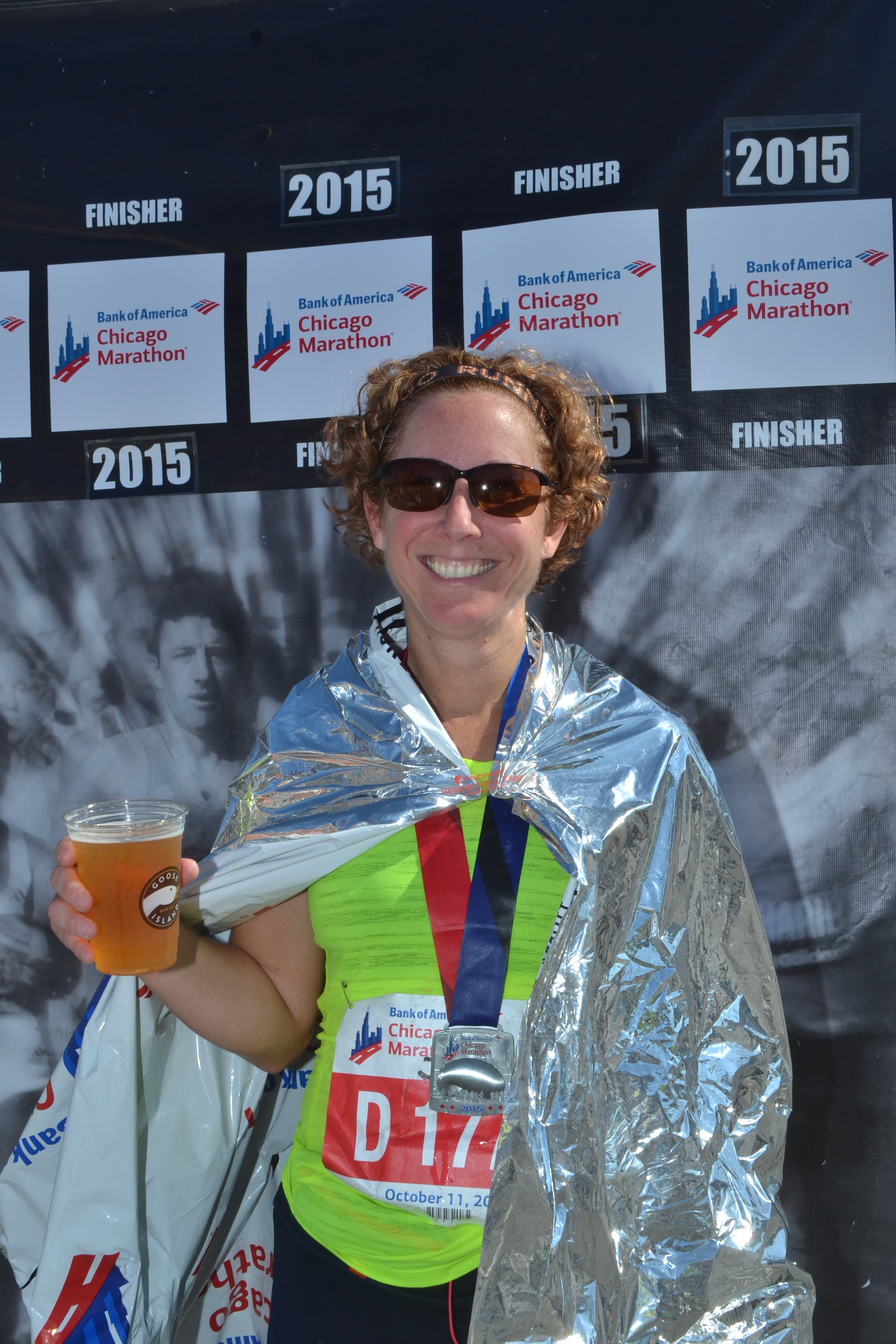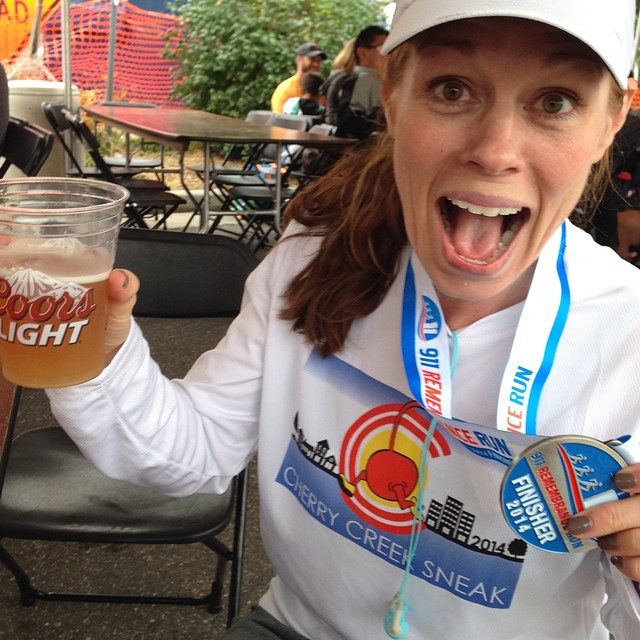 I have toyed with running quite a bit over the years but have never really been faithful about training. I am in my early 40's and after recently working my way from walking to jogging, I wasn't sure where to go next. Kristy turned out to be the right path to take! I just completed my first half marathon and I can say with certainty that I would not have made it this far without her coaching. She gave me a specific and individualized plan that had to be updated several times due to an ankle injury. She was readily available for questions and gave me specific guidelines on handling my ankle injury. She is prompt about reviewing my running data and providing feedback and, although she is quick to cheer you on, she is not afraid to correct things that could be harmful. In addition to giving me excellent guidance about training and injuries, Kristy has proven to be knowledgeable and helpful in selecting new running shoes. I love having Kristy for a running coach and I would have become frustrated with myself long ago if it wasn't for her coaching. I am registered for my next half marathon and I look forward to seeing where Kristy helps to take my running in the future!
~ Kim
I have been working with Kristy for a year and during that year she has guided me through training for a half marathon, 4 1/2 months of winter base building and training for a full marathon.  She also helped me through two minor injuries and got me back on track with my training quickly.  The plans she presented for each of these different situations was completely tailored to me and she adjusted it as I needed–because of being out of town over the holidays, sickness, injury.  She offered her encouragement EVERY step of the way and answered ALL my questions.  I had struggled with fuel/hydration during long runs and post-long run headaches.  She asked questions and offered many suggestions until we found something that worked.  Hooray!  I can't say enough about her knowledge and her willingness to share her knowledge–from running books to read to exercises to strengthen my hips and glutes–whatever question I threw at her she answered. 
She's just a nice down to earth person and coach and that's exactly what I was looking for.  She is worth every penny!!!
~ Sara
Kristy is an amazing coach! I came to Kristy with a few years of running under my belt, but little knowledge about a proper training plan. The attention dedicated to my training plan and race goal was unparalleled. She was beyond accommodating when my training plan needed to be adjusted. Her knowledge of training and race preparation is unparalleled. Her guidance and encouragement along the way made long runs easier. I felt so prepared and confident heading into race day. I credit all future race successes to Kristy!
~ Katie
After battling ITBS for several months, I contacted Kristy in hopes that she could help me overcome this aggravating injury and start running again.  I was impressed from the start when she responded to my initial email immediately.  She developed a plan for me adjusted to fit my needs, and after just a few weeks, I was running again!!  I even completed a 10K recently!  I loved having Kristy as my coach. She always responded immediately to my emails, was very professional, and is extremely knowledgeable about running.  Anytime I had a concern, she addressed it right away and altered my training plan if necessary.  The next time I decide to train for a race, I know exactly who I will turn to!!
~ Amy
I contacted Kristy at the start of the summer with the goal of completing a half marathon in the fall. At that time I would not have defined myself as a runner. From our first e-mail exchange Kristy was so enthusiastic. She devised a training plan specifically for me. She introduced me to so many aspects of the running world such as fueling (before, during, and after runs). Kristy made herself available and answered all of many questions. Her services far surpassed just creating a running schedule and calling it a day. If I ever had pain or soreness she would recommend different stretches and strength training moves. If I were in the marker for new running clothes she would give recommendations. I can confidently say that Kristy has turned me into a runner. She encouraged me and gave me positive feedback and helped me reach my goals. It is evident that Kristy is passionate about running and wants to help her clients cross the finish line. I know that Kristy and I will someday work together again because with Kristy I know I can reach all the goals I set for myself.
~ Blair
A friend of mine referred me to Kristy and it must have been fate – and not just because we share the same name!  I was a runner in my former life, before children, and even though I had made it all the way to running a full marathon, I could not seem to get my act together as a running mom (who also works full-time).  Enter Coach Kristy, and voila! I'm back in the game.  She helped me plan a training schedule around my crazy life (no small task!) and her advice and encouragement along the way were invaluable.  I needed those weekly check-ins more than I ever would have guessed.  She helped me figure out what I could still draw on from my previous running experience, but also what needed to change in terms of my new schedule and my nutritional needs.  I completed the Valley Forge 5 Mile run in April and plan to continue drawing on her expertise to increase my speed over the summer – always a weak point for me, but even more so after taking a few years off from running. Whether you are a seasoned runner, a newbie, or somewhere in-between, I would highly recommend Coach Kristy.  She is simply AWESOME!!
~ Kristy
I came to Kristy after taking a 2+ month hiatus from running, an activity which is not something that comes easily to me in the first place.  Prior to teaming up with her, I completed three half marathons, but after the self-imposed vacation, I knew that I would need help from someone who knew more than "hey, these shoes are pretty – I bet they would work great."  (Hint – pretty does not = effective).
 
From day one, Kristy was helpful, knowledgeable and made herself more than available to me and my myriad of questions and, let's be honest, the whining.  She assisted me in getting my base back and under her assistance, I completed three more half marathons.   I love her spirit, her ambition and the fact that even when I completely did not believe in myself, she unquestioningly always did.  Her excitement was palpable and contagious.  I would frequently be feeling blah about a particular workout but after emailing Kristy and getting her reply, I always felt better.
 
There is no doubt that anyone can benefit from her assistance, wide base of expertise and upbeat, you-so-can-do-this attitude.  She helped me more than she will ever realize and I absolutely believe that enlisting her help is like giving yourself a huge, well-deserved gift.
~ Elizabeth
I found Coach Kristy on the RRCA site. I liked that she shared her personal story, had a personal site and blog, with photos and seemed positive and upbeat. Being a beginner, I thought working with her would be good for me. I was a roller blader prior to running and had not run for years. I got started with a group and worked my way up through different races, starting with the 5K to the 1/2 marathon. I felt that in training  for a Marathon, I would need guidance, accountability, positivity and some firmness if/when I went off track. Coach Kristy provided all of this. An added perk was that she had run the exact race (Steamtown) and told me what to expect. She made a training plan and modified it when I skipped two long runs, ran longer than I should have on others and became overtrained. She was friendly but firm when I got overambitious when cautioning me to beware or risk getting injured and not making it to my marathon. She was also encouraging and occasionally sent me inspirational messages. I would recommend her to beginning runners, begin again runners and anyone contemplating a challenging race that they have not run before. I had a wonderful experience with her as my coach and I would hire her again.
~ Candace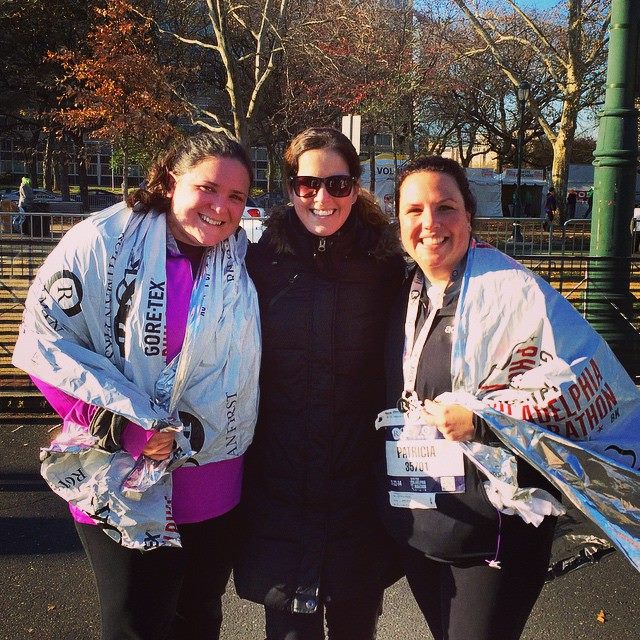 I am a novice runner and have never trained for anything before. Kristy is currently assisting me in my quest to build up my endurance and train for my first 5K.  Kristy's passion and enthusiasm for running combined with her skillful and insightful coaching methods have started me off on the right track!  Kristy formulated a plan built around my activity and comfort level. I find it easy to consult with her if I am having a rough week or a tough time with my weekly running drills. She will adjust my plan as I go, if I seem to be having any issues, so I have the most beneficial results.  My confidence level, as well as my running ability, has improved since starting my 5K plan with Kristy.
~ Heather
Kristy has customized a few training programs for me over the last couple years. I was somewhere between a beginner and an intermediate runner and she helped me nail down a good training program specific to my needs. Kristy is very responsive to all of my inquiries and always gives thorough answers to my questions. She takes her running very seriously and has a unique passion for the sport. Under Kristy's tutelage I have been able to achieve my best times in both a half marathon and a 5K race.
~ Jim
I've worked with Kristy over the past few years mostly for training plans.  I started casually running a few years back and Kristy was able to provide my training with some structure.  I'm definitely someone who will ignore a training plan and just show up on race day and hope for the best.  She's been able to give me plans that suit my needs (I have a FT job and 3 kids) and get me to where I need to be, both physically and mentally, on race day.  She's also great for answering questions – she's super knowledgeable with regard to all things running!
~ Sara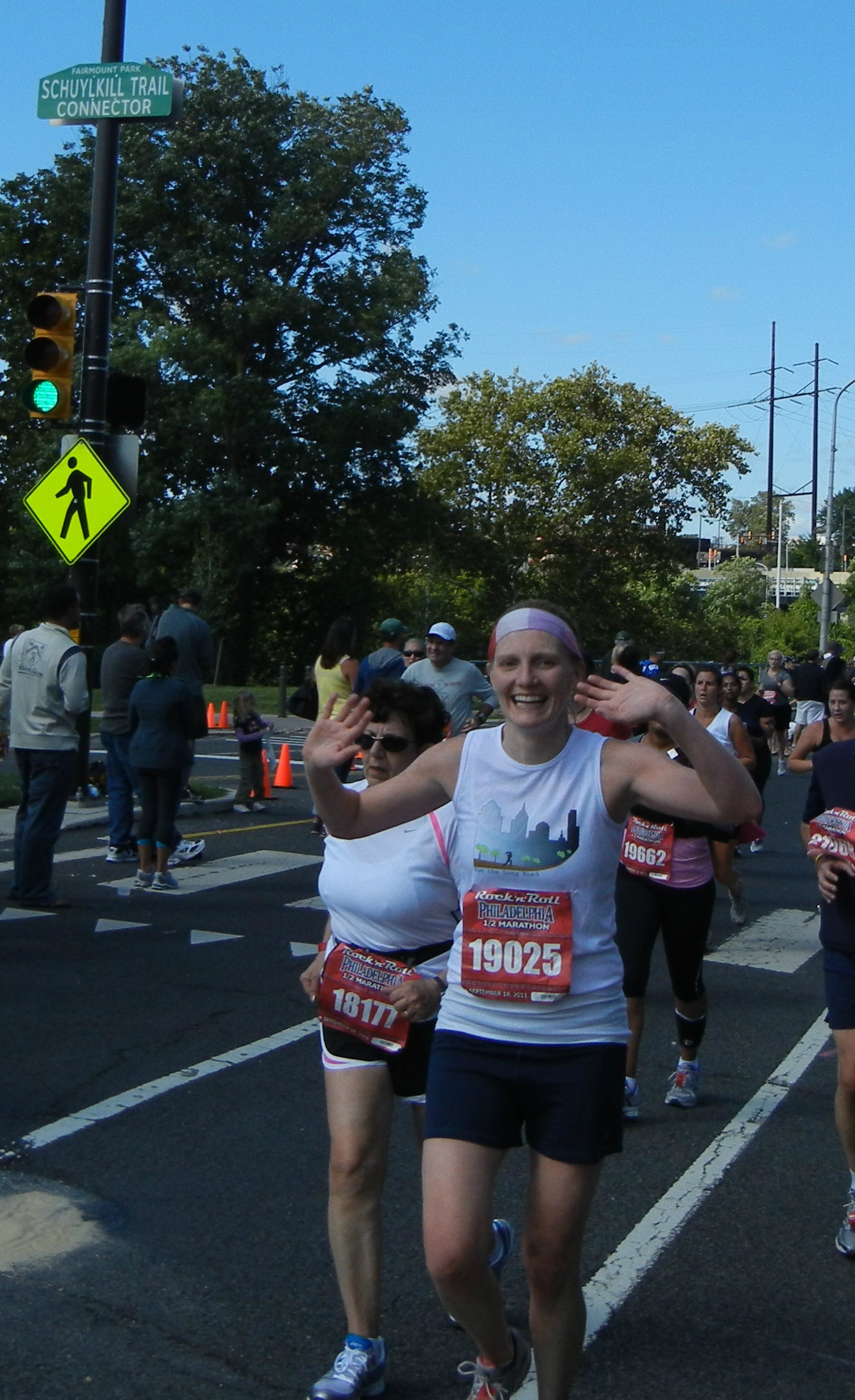 Kristy helped me build my confidence for my first race (a 5-miler). I pulled a muscle in my calf and Kristy helped me revise my training plan through it. She showed me tips on how to heal it and still move towards my goal of completing the race. I love that Kristy is always available for questions. She is extremely enthusiastic. I've never been embarrassed to talk to her, even when she's talking about running twenty miles one day and I'm worried I won't make 4-5! You can tell she has a real love for running and a desire to help people meet their goals.
~ Anne