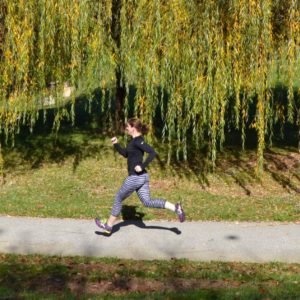 Kristy Campbell is an RRCA-certified Philadelphia Running Coach and NASM-certified personal trainer. She has an extensive background in anatomy and physiology and graduated with honors with a master's degree from the Department of Pharmacology & Physiology at Georgetown University. She worked for Big Pharma for 10 years before pursing her passion to coach full-time. Read more about Kristy here
Are you looking for a Philadelphia Running Coach to help you train for that big race? Most of us were not graced with natural running talent.  We need to work hard and find every possible edge in order to reach our goals.  Whether you are a seasoned marathoner looking to break through a plateau or to qualify for Boston, or are embarking on your first marathon, Kristy can provide training based on science and experience to get you there.  You'll also get accountability, motivation, and the convenience of taking the guesswork out of training.
Kristy offers online coaching and is a top Philadelphia Running Coach, providing her clients with science-based training and support. She has helped numerous runners reach their goals and can help you too!
I cannot say enough good things about coach Kristy! Before I started working with her I had been running on and off for several years. I was inconsistent and had no concept of pacing. I would start out way too fast and burn out halfway through a race. Completing a full marathon seemed like an impossible goal. Kristy gave me the strategy and structure I needed to train smart. She created a personalized training plan that worked for my schedule. I finally learned how to pace myself. Not only is Kristy extremely knowledgeable as a coach, she is also incredibly enthusiastic, supportive, and empathetic. I had improvements with each week of training and my confidence grew. Thanks to Kristy I successfully completed my first full marathon and beat my goal time! Even better, I truly enjoyed the experience, unlike the few half marathons I had struggled through before. I could not have done it without Kristy's expert guidance and I am forever grateful to her. To anyone who wants to take their running to the next level, Kristy can help you meet and surpass your goals. She's a phenomenal coach and person!

~Brigid
Check out more testimonials here
If you are interested in working with Kristy, please visit the website or fill out the contact form. She'll be happy to talk to you about your goals and how she can help you reach them. Hiring a Philadelphia Running Coach could be vital to success in your next race!
Philadelphia Running Coach